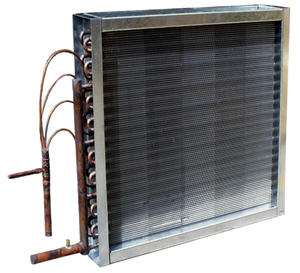 Evaporator Coil
Emergent Coils provides custom evaporator coils for a wide range of applications.
Evaporator Coil Design
Evaporator coils are used to cool or remove moisture from air streams. They are sometimes called direct expansion. They are one of the four main components in the refrigeration or air-conditioning cycle. A liquid-vapor mixture of refrigerant enters the coil and cools the air as it evaporates, and eventually leaves the coil as a gas.
Typical applications for evaporators:
Comfort Cooling
Dehumidification
Process Cooling
Air Conditioning
Refrigeration
Evaporator Coils come in a variety of shapes and sizes, but there are some properties that are common in most evaporator coils:
Rows

Generally, the evaporating refrigerant temperature is closer to the air temperature than a heating coil. Also, to keep water from running off excessively the air face velocity has to be low. Both of these factors increase the number of rows required. Typical Evaporators will have between 4 and 8 rows.

Tube Diameter

The refrigerants moving through an evaporator have fairly high operating pressures, although they are significantly lower than those in the condenser. There are situations in which 5/8" tubes are used, but most commonly we see 3/8" and 1/2".

Connections

Connections for most refrigerant applications are copper sweat. Other types of connections are prone to leak, which is a big problem when working with refrigerants.
Evaporator Coil Specifications
Tubes
Constructed from UNS 12200 seamless copper while conforming with ASTM B75, ASTM B88 and ASTM B251d
1/2" diameter

0.017", 0.025", or 0.032" wall

3/8" diameter
Fins
All fins feature continuous die formed construction
1/2" x 1.250" x 1.083" pattern

Waffle or flat corrugation
H1100 aluminum or C12200 copper
0.0060", 0.0075", or 0.0100" thickness
4-14 fins per inch

3/8" x 1.000" x 0.866" pattern

Waffle or louvered corrugation
H1100 aluminum or C12200 copper
0.0045", 0.0060", or 0.0075" thickness
6-24 fins per inch
Headers
Constructed from UNS 12200 seamless copper while conforming with ASTM B75, ASTM B88 and ASTM B251d
Available Schrader valves for refrigerant charging or evacuation
Headers range from 0.75" nominal diameter (0.875" outside diameter) to 2-1/2" nominal diameter (2.625" outside diameter)
Connections
Distributors
Casing
16 or 18 gauge

Galvanized Steel (G90)
Stainless Steel (304)
Stainless Steel (316)
Aluminum (H11)
Evaporator Coil Performance
Coil performance varies greatly from application to application. Flow rates and temperatures for both fin and tube sides will greatly influence the performance characteristics for any given coil.
We have state of the art software that we can use to quote performance. For a detailed performance run tailored to your situation, please email sales@emergentcoils.com with as many of the following details as you have available:
Coil model number
Duct size
Air Flow Rate in CFM (cubic feet per minute)
Entering Air Dry Bulb Temperature in °F
Entering Air Wet Bulb Temperature in °F (cooling coils only)
Fluid flow rate in GPM (gallons per minute, for water coils only)
Entering fluid temperature in °F
Desired capacity in MBH or tons
Desired leaving air temperature in °F
Sizing Guidelines
Blank Drawings
Related Applications:
Replacement Coil