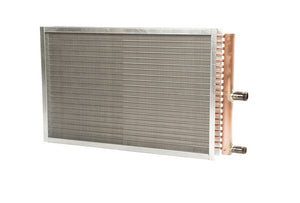 Steam Distributing Coil
Top quality steam distributing coils built to your specifications for commercial and industrial applications.
How it Works
How to Measure
Components Explained
Blank Drawings
Common Brands
Shipping
Top Selling
How Steam Distribution Coils Work
Steam Distribution coils are a common heat source in areas that see below freezing temperatures. The tube inside a tube design protects the coil from freezing and breaking. These are commonly called nonfreeze coils but they are still very capable of freezing and breaking if the unit is not running.
Steam enters the center tube and is distributed slowly through the small holes and fills the outer tubes which allows the heat to be exchanged to the fins. We typically see steam distributing coils using a PSI of 5 to 15 although they can handle up to 100 PSI if using the thickest tube possible. For higher pressure situations, we always recommend using stainless steel tubes.
How to Measure a Steam Distribution Coil:
---
Steam Distribution Coil Components Explained
SD Coils have four main parts. Connections, Tubes, Fins and casing. It's important to have the supply connection on top and the return on the bottom so the condensation can drain properly. Let your rep know the steam pressure you will be using before ordering. This will dictate the thickness of the tube wall we use. Similar to other coils, we do not recommend patching steam distribution coils. This can cause a loss in efficiency and likely more leaks are to come. Patches should only be done to get by until your replacement coil has arrived.
There are plenty of options in materials to use when designing your replacement steam distributing coil. It may not make sense to redesign the coil to the exact specs as the previous coils. You may need more fins for better capacity. Or you may want less fins for ease of cleaning. Below are material options you may consider.
Tubes Material Options:
Copper / Most common and offers best heat transfer
Stainless / Often used for high pressure and high heat applications. Comes 304 or 316 SS
Steel / Common for high steam application
3/8, 1/2, and 5/8 are available. Although 5/8 inch tube diameter is the most common selection for chilled water coil because it offers many wall thickness options which can increase the lifespan before tube erosion becomes a problem
Fin Material Options:
Aluminum / Most common and cheapest options
Copper / Often used in corrosive environments
Stainless / Also used in corrosive or food grade environments
Casing Material:
Aluminum / Cheapest and most common
Copper / Common in corrosive environments
Stainless / Common in corrosive or food grade environments
---
---
Common Brands We Replace
Carrier
Heatcraft
Leenox
Mcquay
Trane
York
Aaon
---
Shipping Options for Steam Distribution Coils

Free shipping on most steam distribution coils!

Most coils ship in 2 to 3 weeks but many customers use our expedited options. Contact your rep for current options.
---
---
Top Steam Distribution Coil Blog Posts