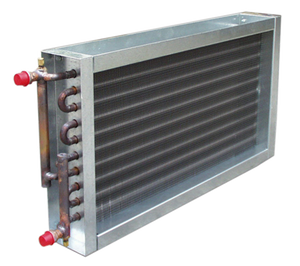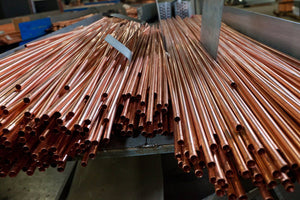 Hot Water Coil
Quality replacement hot water coils to fit your exact needs for new equipment or replacement.
How it Works
How to Measure
Components Explained
Blank Drawings
Common Brands
Shipping
Top Selling
How Hot Water, Boosters and Reheat Coils Work
Hot water coils are a type of heat exchanger often called hydronic coils that use hot water from a boiler to heat or remove moisture from the air. The air moves through the fins of the coil which is hot from water flowing through the tubes. This is a type of heat exchanger mostly used in commercial and industrial air handler units, roof top units as well as ductwork installations downstream.
In parts of the country and world, you may be more familiar with radiant heat or baseboard heat. Those particular units do not have air moving through them but simply radiates the air near the units. Hot water coils on the other hand are used in forced air systems and booster coils or reheat coils are used in ductwork downstream to reheat the air that has cooled off.
How to Measure a Hot Water Coil:
---
Hot Water Coil Components Explained
Hot water coils are one of the simplest parts to an HVAC unit, but it can be important to know the parts so you know what type of connections and where they need to be located. Similar to chilled water coils, If and when a coil is to leak it usually happens in the copper u-bends. But with hot high pressured water, it will first leak at the weakest place which can be on a return bend or in the middle of the coil. When patching a leak in the middle of the coil it will significantly destroy that area causing the coil to lose a great deal of efficiency.
No matter how simple a hot water coil or reheat coil is, you still have options of what materials you should use.
Tubes Material Options:
Copper / Most common and offers best heat transfer
Stainless / Often used for high pressure and high heat applications. Comes 304 or 316 SS
Steel / Common for high steam application
3/8, 1/2, and 5/8 are available. Although 5/8 inch tube diameter is the most common selection for chilled water coil because it offers many wall thickness options which can increase the lifespan before tube erosion becomes a problem
Fin Material Options:
Aluminum / Most common and cheapest options
Copper / Often used in corrosive environments
Stainless / Also used in corrosive or food grade environments
Connections Materials and Types
Copper, Brass, Steel, Stainless
Female Thread, Male Thread, Sweat ODS
Size range ½" to 4"
Casing Material:
Aluminum / Cheapest and most common
Copper / Common in corrosive environments
Stainless / Common in corrosive or food grade environments
---
---
Common Brands We Replace
Carrier
Heatcraft
Leenox
Mcquay
Trane
York
Aaon
---
Shipping Options for Chilled Water Coil

Free shipping on all hot water coils!

Most coils ship 3-5 business days and are delivered within 5-10 business days.

Expedited shipping options available.
---
---
Top Hot Water Coil Blog Posts